Discover more from FINTECHTALK™ Sculpting the future of fintech, AI, & Crypto
FINTECHTALK™ is the future media publication of iValley Innovation Center and iValley Ventures - a corporate fintech/AI accelerator. Streaming live on Apple and Spotify
Over 6,000 subscribers
Challenger Banks Trends Report from iValley - Preview
Analysis of 100+ challenger banks and incumbent and big tech offerings around the globe: successful models, predictions and how you should respond to this rapidly evolving and growing space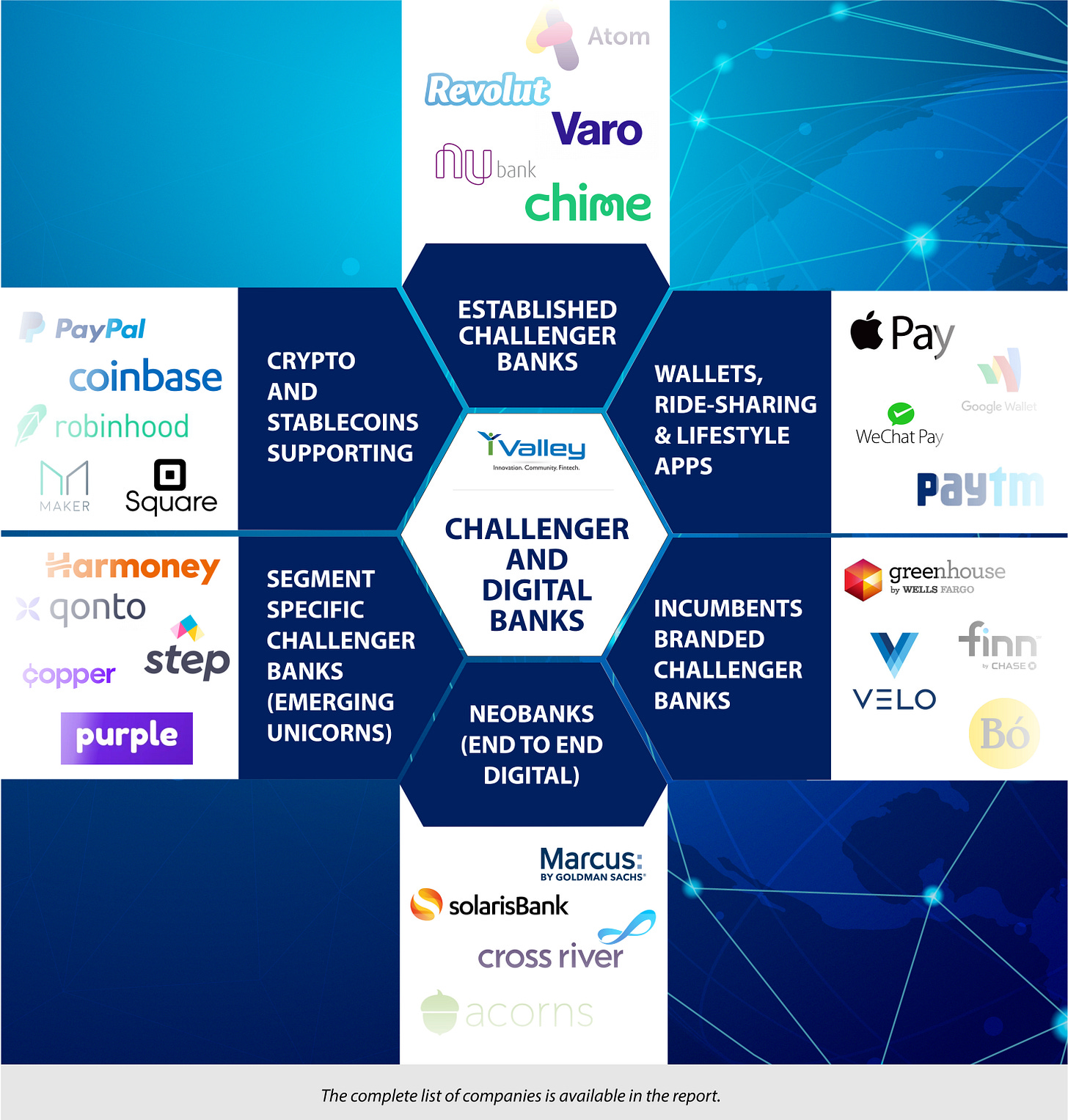 In this report, we looked at the challenger bank and branded digital banking landscape that has dominated not only fintech but has seen entrants from big tech, ride-sharing platforms, and even some incumbent financial institutions with their parity offerings. We looked at 100+ startups around the globe, offerings from incumbents and tech firms and studied their business models, segment focus, and make some predictions on how this space is going to evolve. This report has key insights for incumbents and startups on how to position and be successful in this rapidly growing space in fintech
The key takeaways in the report:
Challenger bank adoption is growing rapidly across the globe. While the trend started in Europe and the UK, we now see rapid growth in the U.S and Asia.

There are several different flavors that include challenger banks, branded digital banks of incumbents, neoBank or end-to-end digital banks, and lifestyle applications that provide banking and payments.

In Europe and the U.S/Americas, startups like Chime, Varo, Nu Bank, Starling bank, N26 have found success whereas in Asia it is the larger tech firms like WeChat, Jio that are getting more traction.

The most common revenue models for 1st generation digital banks are transaction revenue (debit card interchange). We predict that the second generation models will be more segment-specific with embedded payments, lending, and financial planning and investment functionality with data monetization, personalization, and stable coins (crypto-currencies) playing key roles. Just like ride-sharing platforms created frictionless payments, banking, payments, and financial planning activities will get embedded in our everyday interactions and challenger banks will lead that evolution.

Specifically in the U.S, after the big bank branded digital bank initiatives have all but failed, we predict that regional and community banks will launch or partner with challenger banks to expand the reach of their footprint.

Crypto-currencies and stablecoins will see broader adoption not just for trading like is supported in apps such as Square Cash and Robinhood but as an alternative to payment rails with stable coins.
The full report and the listing of all the digital banks included in our analysis is available to our clients. Click here to request a copy.